Pantone's 2019 Color of the Year Is Living Coral, and We Are All About It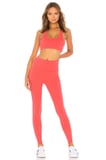 Playful, vibrant, and totally cute, Pantone announced that its

color of the year for 2019 is Living Coral, and we are more
than on board with this decision. This color is
light and bright, and some might say it's even a little bit
mischievous, too.
We found the perfect products to dress up your wardrobe, home
decor, and overall look while incorporating all things coral. Come
at us,
2019!
Source: FS – All – Food and Nutrition Blogs
Pantone's 2019 Color of the Year Is Living Coral, and We Are All About It