29 Traditional Indian Dishes The Whole World Should Know And Love
There's more to Indian cuisine than butter chicken.
Papri chaat
Translation: Papri = refers to the crispy fried dough chips; chaat = tasting with a fingertip but also includes a variety of savoury snacks commonly sold from street stalls or food carts.
Think of this dish like an Indian version of nachos. The base is lined with crispy papris that are then topped with fluffy potatoes, tender chickpeas, a spicy mint and sweet and sour tamarind chutney, cooling yogurt, and crunchy sev (fried noodle-shaped snack made from chickpeas). Next up is a generous dusting of chaat masala (a spice powder mix), and then it's ready to be served.
Matar paneer
Translation: Matar = peas; paneer = a type of curd cheese.
This comforting North Indian dish features a delicious combo of soft paneer and green peas in a spiced, tomato-based gravy. Served with rice or roti, it's almost guaranteed that extra will be made because everyone always comes back for more melt-in-your-mouth paneer.
Chole bhature
If you're looking for a typical breakfast in India, look no further than a serving of heavenly chole bhature. It's made up of chana masala (a spicy curry made with white chickpeas), bhature (a puffy fried bread), mint chutney, and some optional extras like sliced onions and green chillies. But beware, it's a bit of a heavy dish so you may be inclined to have a midday nap after eating it.
Aloo gobi
Translation: Aloo = potato; gobi = cauliflower.
A regular feature on every Indian mum's cooking arsenal is this simple but fragrant veggie dish. All that's required is potatoes, cauliflower, and some Indian spices like turmeric which gives the meal its yellow colour. Bonus fact: Unlike other Indian dishes, aloo gobi is safe for vegans to consume!
Pakora
Pakoras are a classic Indian street food that no one can resist. Best of all is that they're dead easy to make yourself! All you need is any leftover vegetables you may have (onions, potatoes, cauliflower, eggplant, and leafy greens work well) and a batter made from chickpea flour. Deep fry until golden and pair with mint chutney, tamarind sauce, and a hot cup of chai to make a meal out of it.
Idli
These soft-steamed lentil rice cakes, called idlis, are a traditional breakfast in South India. They're often served with sambar, a deliciously tangy lentil-based stew, and a refreshing coconut-based chutney to dip in.
Pani puri
Translation: Pani = water; puri = refers to the fried puffed crisp balls.
Pani puri, also called gol gappe or phuchka depending on which region you're in, is arguably one of India's most popular street snacks. To make them, vendors fill round, hollow puris with a mixture of mashed potato, onion, chickpeas, chilli, and tamarind chutney. Chilled mint-flavoured water is then added to give the puris a tangy, but spicy, flavour that is incredibly moreish.
Bhel puri
In India it's all about the chaat, including this texture-filled bhel puri. In it you'll find puffed rice mixed with potatoes, onions, sev, chaat masala, and various chutneys. Just make sure you eat up quick to avoid a soggy and disappointing mess.
Dosa
Dosas are a thin and crispy South Indian pancake that is traditionally served with sambar and coconut chutney. But there are countless other variations, including a masala dosa, which adds a filling of spiced potatoes, and a paneer dosa, which features a generous layer of spicy paneer.
Dahi vada
Translation: Dahi = yogurt; vada = refers to fried flour balls.
Dahai vada, a creamy yogurt dish, is often made during the festive season. Fried lentil balls called vadas are dunked in a spiced yogurt topped with chili power and chutneys. Simple, but very, very tasty.
Makki di roti served with sarson da saag
Translation: Sarson = mustard; saag = greens ; makki di roti = bread of maize.
When the weather gets cooler, this quintessential dish of flabread and mustard greens is the perfect winter warmer. The saag is simmered down, blended until smooth, and finished off with a dollop of ghee, while the makki roti is baked fresh on a hot tawa. Delicious!
Mutton curry
Goat meat, or what is referred to as mutton in South East Asia, is widely used in Indian cuisine. This Bengali spiced curry is no exception, and features tender chunks of meat in an onion-tomato gravy. Spices like garam masala and cumin are added to elevate the flavour before being served with a plate of steaming rice.
Kaddu ki sabzi
Translation: Kaddu = pumpkin; sabzi = vegetable.
This vegetarian stir fry dish will be adored by pumpkin-lovers. Cooked with tomato, peas, and a variety of spices, the end result is a tangy but sweet surprise that pairs well with a serving of hot pooris.
Baingan bharta
Translation: Baingan = eggplant; bharta = refers to a mixture of mashed vegetables.
This mouth watering eggplant-based side dish is not only healthy, but it's tasty to boot. Eggplants are roasted on an open flame before being mashed and stir-fried with aromatics to create a delicious, smoky flavour. Traditionally the bharta is served with rotis, but it goes just as well with some rice.
Khichdi
If you're looking for comfort food packed with nutrition, look no further than a big, steaming bowl of khichdi porridge. Made from rice and lentils, vegetables such as cauliflower, tomato, potato, and green peas are commonly added before being served with achaar (an oil-based pickle), raita, or papadums.
Bhindi masala
Translation: Bhindi = okra; masala = mixture of spices.
A popular but simple side dish made in Indian homes is stir-fried bhindi. It's made up of an onion-tomato base that is used to coat the okra, which then may be served alongside roti and daal.
Vada
Vadas can be best described as a style of Indian dougnut typically eaten for breakfast or as a snack. There are several different varieties, but the most common, medu vada, is made with black gram flour. Served with some sambar and coconut chutney, they'll easily become your new favourite doughnut.
Fish curry
Thanks to its long and rich coastline, there are a large assortment of regional fish curries in Indian cuisine. Most tend to be a tangy and spicy tomato-based curry filled with soft chunks of fish and vegetables.
Aloo tikki
Translation: Aloo = potato; tikki = small cutlet/croquette.
Trust me when I say you haven't lived until you've tried an aloo tikki burger. Made out of boiled potatoes, onions, peas, and various curry spices, all that's missing is a side of tamarind and mint chutney to complete it.
Daal makhani
Dal makhani, which is made from whole black lentils, has a rich and creamy texture which is achieved by adding butter and cream. It's absolutely worth trying and can be made without the use of any dairy for a lighter meal.
Biryani
Biryani is a universally loved mixed-rice dish in India. Specific ingredients and cooking methods may vary from region to region, but generally a biryani consists of spices, rice, and meat being cooked in an airtight pot over a low heat. This is done so that the rice absorbs all the rich flavours of the meat resulting in a fragrant, flavour-filled taste.
Rajma
Rajma is a gorgeous dish consisting of red kidney beans cooked in a thick creamy curry. And although it may be simple, it's hearty and just perfect for the wintertime (or anytime really!).
Gajar halwa
Translation: Gajar = carrot; halwa = sweet.
Traditionally eat during festivals such as Diwali, Holi, and Raksha Bandhan is this sweet carrot-based desert pudding. Served with garnishes of almonds and pistachios, a spoonful of this will feel exactly like a warm, inviting hug from your loving Mum.
Gulab juman
Translation: Gulab = rose; jamun = berry.
Easily the most popular and loved dessert in India is the gulab jamun. For those that have been snoozing on this mouthwatering delicacy, it consists of fluffy cardamon-spiced donuts immersed in a rose-flavoured sugar syrup. And let me tell you, having one is always never enough.
Kulfi
Kulfi is a frozen dairy dessert that is basically India's version of a traditional ice cream. It's denser and creamier however, and comes in flavours like mali, rose, cardamom, saffron, pistachio, and mango. The street vendors will usually finish off your kulfi with some ground cardamom, saffron, or pistachio nuts. Yuuuum.
Ras malai
Translation: Ras = juice; malai = cream.
Imagine soft, pillowy balls of chhana (cheese curds) being cooked in a sugar syrup and then soaked in a sweetened condensed milk and cream mixture. Sounds deliciously decadent, right? But it's actually one of the ~healthier~ dessert Indian dessert options considering that nothing is fried. And honestly it tastes just as good, if not better, than it sounds.
Jalebi
If you have a sweet tooth, then make these crispy, sugary spirals of jalebi goodness next to try on your bucket list. They're made from a deep-fried flour batter that's been generously soaked in a sugar syrup.
Danishkhan / Getty Images
Kheer
This humble rice pudding is an integral part of every Indian home. Flavoured with cardamom, saffron, dried fruit, almonds, and pistachios, the rice can also be substituted with vermicelli or tapioca for a slightly different taste. Served warm, it's the best and only way to end a family feast.
Barfi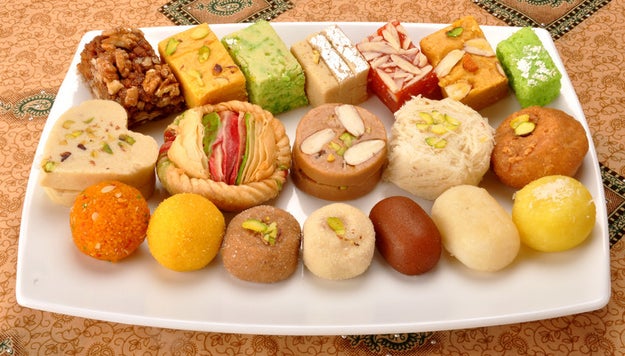 Translation: Barfi = a derivate of the word "barf" meaning snow.
If you've ever visited an Indian sweet shop, you're more than likely to have come across these scrumptious milk-based mithai known as barfi. Common varieties include milk, besan (chickpea flour), kaaju (cashews), and pista (ground pistachios), but there are quite a few chocolate versions out there too! They're also usually covered in a thin layer of edible metallic leaf to make them look extra appetising.
Highviews / Getty Images
Source: buzzfeed
29 Traditional Indian Dishes The Whole World Should Know And Love